This article is a stub.
You can help by logging in and expanding it.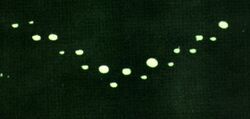 The Lubbock Lights, 1951 Lubbock Texas.
Three professors from Texas Technical College spotted an unusual light formation flying over Lubbock, Texas in 1951. The 20 to 30 lights flew in a 'V' shape over the town, and the occurance was eventually photographed by a student from the college with the photographs later appearing in Life Magazine, although an explanation of the sightings is yet to be found.